Have you ever been scammed?  If not, consider yourself lucky.  If you have, how did you feel?  How do you feel years later.  What I am trying to say, is that there are longlasting effects after being scammed.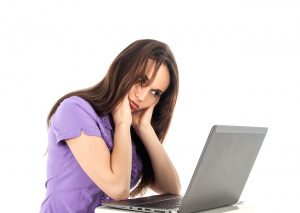 Probably the most prominent effect is betrayl and the loss of trust.  You will never trust the person that scammed you and probably will have difficulty trusting anyone for a very long time.  In fact,  you probably will blame yourself and not even trust yourself.  It is very difficult to trust anyone or anything again once trust has been broken.  As time goes on, anger rears it's ugly head.  You are probably angry at yourself for allowing this to happen as well as the ones that scammed you.  In addition to this you may take it out on everyone.  God help the next company that tries to convince you to join them and tries to convince you that they are legit. In business, people may be scammed more than once and in today's world of internet businesses it is easier to do.  People can lose their life savings through business scams.  When this happens, people probably will never trust anyone again
I am sort of in this position.  I became involved with several online companies which, of course, made the offers sound great.  They professed to either teach and/or set up a website for me to start your own business on line. In the end, it cost several thousands for each one.  None of them worked.  I have not made a cent from any of them, except for a very small amount selling some of my stuff on Ebay.  Today I trust no one.  You could probably hand me millions of dollars in cash and I probably would not trust you and would not accept it.  I would think that there was something illegitimate about it.  Well, maybe not.
Now, let me digress a little.  I did come across this company that I did some research on and it seemed legitimate.  Because the price was so small I did decide to take a chance with them.  The name of the company is Wealthy Affiliates. I tried it for the 7 days and then became a premium member. I have started a couple of businesses by following their lessons.
_____________________________________________________________
What is Wealthy Affiliates?
_____________________________________________________________
Wealthy Affiliate is a company that was started about 12 years ago by Kyle and Carson.  They do not set up the website for you; they teach you how to do it yourself.  It includes setting it up and courses on marketing, as well. You can start the program for $0 and have access to whatever you need to enable you to set up 2 websites.  Then, if you choose to continue you can pay them for a premium membership on a monthy basis for as long as you want.  Just about everything you need is included in this.
You can take whatever you are passionate about and develop your own business or you can build a site to promote wealthy affiliate but develop the site as you want to.  It is your site.  Either way there are courses to teach you from beginning to end.
Support is provided by all of the members and by Kyle and Carson themselves.  It is for anyone.  You don't have to be a computer expert to do this.  If you have a question, just ask and someone will come to your rescue.  Words of encouragement are also given.
And the price is right.  You can try it for nothing for 7 days and then become a premium member for $49 a month. This is a very small amount for all that you get. Even the hosting fee each month is included. I have another site that was built for me by one of those companies and it costs me $39 a month for hosting. You can also build more than one website as a premium member.
If you are like me and have no idea how to go about starting an on-line business, Wealthy Affiliates provides the education and support to do this.
_____________________________________________________________
If you are ready to trust a company and get started with your new on-line business then click here on Wealthy Affiliates to learn more about it.
_____________________________________________________________
If you have any questions or comments please do so below.