Having goals is vital for all of us. If we don't have goals to work toward, our life will remain static. If you don't know where you are going or have goals, how do you move on? Once a person has goals, his attitudes toward his goals follow.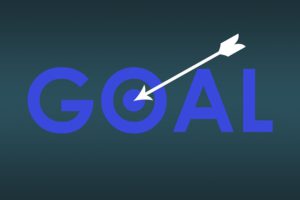 Why Does One Have Goals?
Goals have a purpose. If you don't have a goal you have no place to go; no reason to do anything. When one starts a business, one needs to take it step by step and in a logical sequence to plan how you are going to get the business started and established. Even if you are not planning on starting a business, it is important to have goals for what one will do that day. If you don't have goals for the day, you have nothing to do for the day. He might as well just sit around and do nothing. So, goals do have a purpose. It keeps us moving forward toward the goal that you set for yourself for that day. Once you have achieved that goal, one needs to form a new one in order to achieve what the ultimate goal is.
This brings us to a discussion about long term goals and short term goals. The long term goal is just that–what he hopes to accomplish in the long run. For example, he hopes to start a business in real estate. This is his ultimate or long term goal. Now, he has to figure out how to do this. This requires short term goals. Once these goals are accomplished, new ones will be needed and then new ones and on and on until the ultimate goal has been achieved.
Attitudes Related To The Goals You Set For Yourself
Many times when you look at the goals, they seem insurmountable. Even the final goal may seem beyond all possibilities. Perhaps this is not something that you really want to do. Maybe someone else in your life thought that this would be a good idea for you. However, you really are not excited about it. As you look at the smaller, short time goals, it seems like you will never be able to achieve them or again, maybe you just don't want to. Maybe, you are impatient. Sometimes, one wants to get there now. That was how I felt when I was working on my degrees. I wanted them now. Of course that does not happen for anyone. It is a slow process and one that you have to work at.  If this is not the case, maybe the goals need to reviewed and changed.
How do you feel when you have accomplished a goal or when you finally reach the final goal?  I imagine you feel good.  Most of us feel good about what we have done and feel good about ourselves.  We have a positive attitude, and if we don't then we need to look at this and change things.  A goal usually gets a person one step closer to the final one,which is what we are striving for.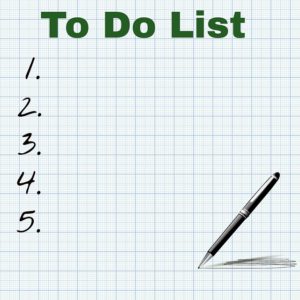 I have a brother-in-law that we used to tease all of the time about his To Do Lists.  He had multiple ones all over the place.  One day I was overwhelmed by a lot of things and decided to make a list for myself.  Well, guess what?  It helped and as I achieved something on it I would cross it off.  That was the greatest feeling.  I had actually accomplished one of my tasks, or as I put it, one of my goals.  I felt great and then moved on to the next item.  I tried to convince a teenager to do this during the school year when he was overwhelmed with his homework.  Of course, he didn't buy it, and brother-in-law had the last laugh about his lists.
In order to move on and accomplish your final goal, you need to achieve your smaller ones.  Having a positive attitude toward your goals is very important in doing this.  Negative ones will definitely hinder any progress toward success.  You may have doubts and fears regarding your goal, but if you get stuck here, nothing will happen.  One's attitude definitely makes a difference.    

How Does One Start A Business
Goals–goals are what is needed to start a business.  Without a goal to start a business, there will be no business.  Then you need to figure out how to do get started and how to move on toward your long term goal.  The first goal has to be what you are going to sell.  If you have no idea your first goal would be to figure this out.  What are you passionate about.  This should help you to figure it out.  Then if you are like a lot of us, you have to learn how to do this.  There are a lot of companies out there, but you have to be careful when you do this.  I was lucky enough to find one of the greatest ones in this field.
The company that I am referring to is Wealthy Affiliates.  This company teaches you from day one and step by step how to design your website for an on-line business and then how to market the company.  I am getting a little off track.  During every step of the way, goals have to be set to move ahead.  It is not easy to start and manage a business, and some of what you will be doing is hard.  However, if you use that to-do list it will make it easier.  Sometimes, the tasks are not what you want to do, but if you have a short term goal on your list to cross off you will get it done.
Wealthy Affiliate will help you to develop goals to get your business started. Wealthy Affiliate has a great support system which is available to you 24 hours a day 7 days a week, including holidays.  No matter what time of the day or night you can reach someone to answer questions and give you the support that you need.  Everyone is so patient and will make sure that you know what you are doing so that you can move on.  I can atest to that.  I just had an issue figuring out something on Twitter and she worked with me for the last 24 hours until I finally got it.  How many companies will do that for you?
In addition to all of this, just about everything that you need to start and market an on-line business is included in the small monthly fee.  If you have ever worked with another company to do this, you know that most companies charge thousands of dollars more.  You can also, try out almost all that they offer free for seven days.  If you are happy with your experience for these 7 days, you can then become a member for the monthly fee.
If you are ready to work on those goals and start your on-line business click here for more information as well as how to get started with Wealthy Affiliate.
Conclusion
Goals are important in all areas of one's life.  We all need to develop goals.  We need long term goals and short term ones and we need to foster positive attitudes toward our goals.  Goals can always be changed if you find that they are not what you want.