Do You Want To Work From Home And Be Your Own Boss?
I have a feeling that most people would answer yes to the questions of wanting to work from home and being your own boss.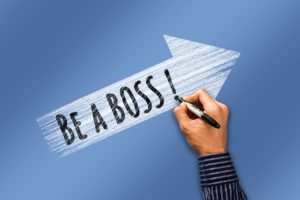 After we look at it let's answer it again and see if the answer is the same.
What Are The Advantages Of DoingThis?
I imagine the first thing that comes to mind is that you no longer have to take orders from someone or be accountable to someone for every little thing you do or say. There is no one to tell you what to do and how to do it and yell at you when something goes wrong.
If you are working from home you don't have to worry about what you are going to wear. You no longer have to get up and get ready to go to work at a particular time. No more time clock. No more schedule to follow or deadline to meet. You are the boss! You decide what you are going to do today and when you are going to do it. If you don't accomplish it today, you don't have to answer to anyone, but yourself. You can do it tomorrow or even in the middle of the night if you want to. You have flexibility. You are the boss!

What Are The Disadvantages Of Doing This?
You are the boss! If something goes wrong or doesn't get done on time or at all, you are the responsible person. You have to answer to yourself and "blame" yourself for whatever went wrong. You have to do all of the work. You have no one to help you or to do the things that you don't like to do. You have no one to delegate to unless you hire someone. You have no one to consult with or talk with. If you have questions or need support you have to find someone outside of your business to do this. There is no one to tell you when you have done a great job. It is a one man operation. You are alone. It is all on you. If you don't produce you don't get paid. If you don't get it done, no paycheck.
Weigh The Pros And Cons
The next step is to probably weigh the pros and cons. Can you afford to take the risk. If you don't succeed, then you don't get a pay check. Can you survive without a paycheck? Are all of the advantages of having your own business and being your own boss worth the disadvantages? When you look at the advantages it looks exciting. No one else to tell you what to do or to yell at you when something goes wrong. There is a lot to consider. Both sides have to be looked at before you jump into it with nothing else to back you up. If you have a spouse or a family, they probably should be involved in the process, too. Their well-being may depend on you decision as well.
How Do Others See It
It is worth asking others what they think about this idea. I am sure that others are going to tell you when they hear about it. I know from experience. My family still thinks that it is a scam and is not going to work. It is probably a good idea to get the opinion of other business people as well. They will be the most honest and tell you what they really think. They can point out all of the issues you will encounter and whether or not it is a good thing for you personally. It may not be for everyone. Check it out on the internet. I would guess that most people do this anyway, but never hurts to be reminded.
In the end it is your decision. Only you know what you really want to do and why you want to do it. Other people that are close to you will continue to express their concerns and feelings about this probably for a very long time. I know my family does.
Now It Is Time To Get Started
Once you have done your homework, it is time to get started. Probably you have some idea of what you want to promote, but if not there are many, many niches to choose from. If you have no idea as to how to start your own business from home there are a lot of companies that are just waiting to help. All I can say here, is to be careful. I tried with a few companies that charged me big bucks and gave me very little. Finally, though I did find a company that has been so helpful and supportive during my whole endeavor. I remember it so clearly one weekend. I was just "surfing the web" as they say, looking for some place that could teach me how to do all of this by myself. I found this company called Wealthy Affiliate. I clicked on this and decided to accept their offer to try it for free for 7 days.
Once I saw what they had to offer I decided to join and become a premium member for just $49 a month. They teach you step by step how to design your own website. I realized that what the other companies had done for me I could do on my own. In addition to this there was a ton of other things that they taught you how to do to start and promote or market your business. If you can not decide on a niche, which of course you need before you can do anything. I knew what I wanted to do so I started working on this. I started a couple of other ones, too, since with this company you can have and host up to 25 businesses for the same monthly fee. The only other thing that you have to pay for if you want it is your domain, which are pretty inexpensive on a yearly basis.
Education is very important to the owners of this company and there are many, many classes that you can attend at your own pace and weekly webinars. You can always go back and review things as well. There is a tremendous support system to help you learn and move on. All you have to do is ask. There is someone available 24 hours a day 7 days a week through a chat system.
Once your website is set up it is time to promote or market it. This, too, is included in the Wealthy Affiliate site. They now teach you, again, step by step how to do this with the support that you may need to do this. This definitely is the way to go for any of us that have no idea what we are doing. It is for us that don't have a clue as well as those that are more advanced with all of this. This is a tremendous help for all of us, too, as they offer their expertise to those of us that need it.
I hope that anyone that is thinking about working from home and wanting to be their own boss, will explore Wealthy Affiliate and get started doing so. If you are ready, click here to do so and/or get more information.
Conclusion:
Starting your own business and working from home may look interesting to a lot of people and it may be or it may not be, but it certainly is worth considering it and looking into being your own business.